Hey, ho, let's Venmo!
If you are using Payments as your processor, Venmo is now an option on your donation pages.
Users can include the PayPal + Venmo option in their Pages. Then, when donors select that option on the Page, they can decide to pay with Venmo.

Clicking the "Pay with Venmo" button will pull up a QR code that donors can scan with their Venmo app to pay/donate from there.
In Honor of You, The Tribute Sync Just Got Better
When you receive a tribute gift in honor or memory of someone through a donation page, that information will now sync with Virtuous. Here is how RaiseDonors Page fields/selections map to Virtuous fields/selections:
| | |
| --- | --- |
| RaiseDonors | Virtuous |
| In honor of… | In honor of |
| In memory of… | In memory of |
| Who would you like to honor? | Tribute Name |
| Recipient First Name | Acknowledgee First Name |
| Recipient Last Name | Acknowledgee Last Name |
| Recipient Email Address | Acknowledgee Email Address |
| Your Message to the Recipient | Tribute Description |
This functionality allows you to better track your tribute information in Virtuous, including who to reach out to when gifts have been made in someone's honor/memory.
Virtuous Responsive Listener for our Responsive Fundraisers!
With Virtuous' Responsive Listener, you can track your donor's activity on your website. By taking a closer look at the content a donor interacts with most, you can connect with them on a more personal level, tailoring your communication with them. And while it's tracking donor activity, it can even suggest the right gift amount when donors visit your donation page in RaiseDonors.
Enter custom gift arrays!
To configure custom gift arrays in RaiseDonors, go to Manage Account and then under System Settings, click Integrations. Select your Virtuous integration.
In the list of boxes, check the one next to "Enable Virtuous Responsive Listener."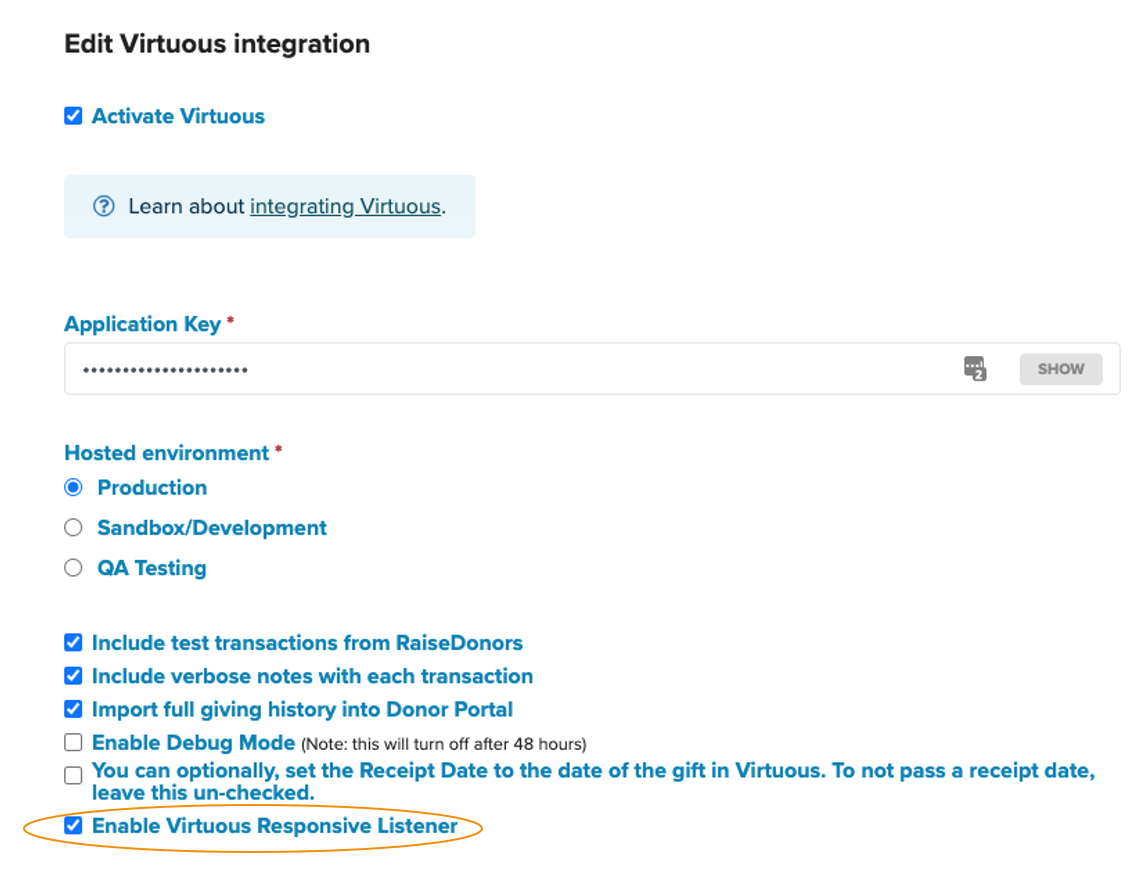 Next, you can add the custom array option to your RaiseDonors page. Go to Pages to manage your donation pages. Edit a Page or create a new one. At the bottom, go to the Setup tab.
From there, click the radio button next to "Show Dynamic Gift Array." In the dropdown list under Build Dynamic Array Based Upon, select Virtuous Suggested Amount.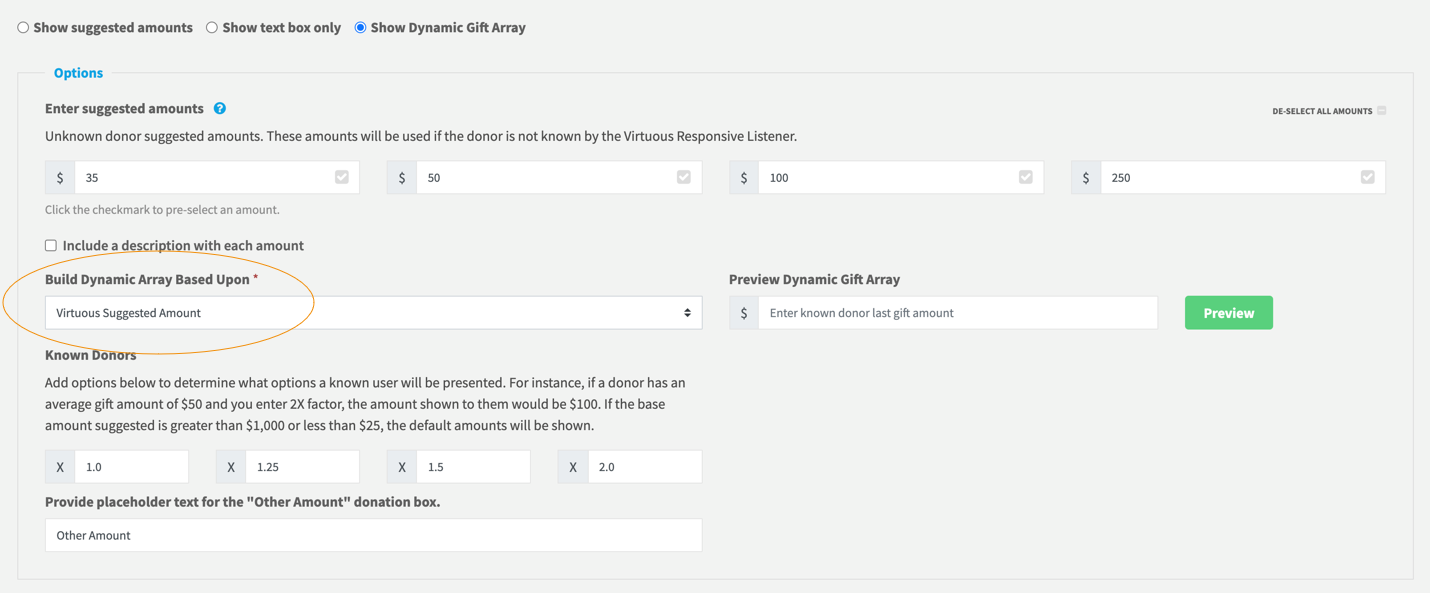 Now if donors have clicked on links included in Virtuous emails (which have tracking data added), they can be identified and linked with a Virtuous Contact record. In turn, when this Contact goes to a RaiseDonors giving page with a custom gift array, they'll get an ask string that is personalized based on their giving history.