How Much is That Product on the Giving Page?
Yes, this month we've rolled out a small change to make it much easier to clearly communicate the minimum required donation amount for products included on your donation pages.
You can set the minimum donation amount when creating or editing any product on the Products page.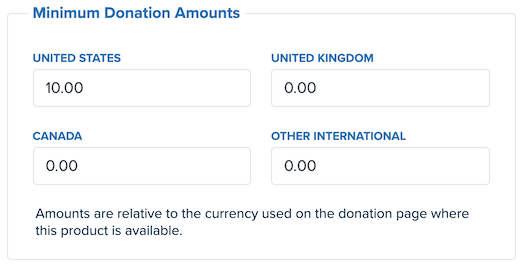 Donors will not be able to select a product without meeting the minimum donation amount. If a donor's gift does not meet the required threshold, and they attempt to select a product, they will see a clear message letting them know the minimum donation required.

Even SMARTER SmartyStreets
All the way back in February, we rolled out a new and improved SmartyStreets integration. But did we stop there? No, we did not!
Hot on the heels of offering support for the Basic and Pro plan levels, we are happy to announce that our integration now supports International address plans! You'll see the ability to add international address support when editing the integration.

You'll need your own SmartyStreets account in order to set up the integration.