One of the first steps to getting started with RaiseDonors is creating a donation page! To do so, navigate to the Pages screen from the main menu in the top left. Select + New Page and then select Donation Page.

Details

Fill in the About information for your new page:
Internal Page name
Public Page name
Page link: where your page is available via the web
Fundraising goal: This is option and does not appear on the page, but it allows progress to be tracked
Set expiration date: You're able to make your page unavailable after a certain date. If you choose this, you'll be able to redirect your expired page to a new URL.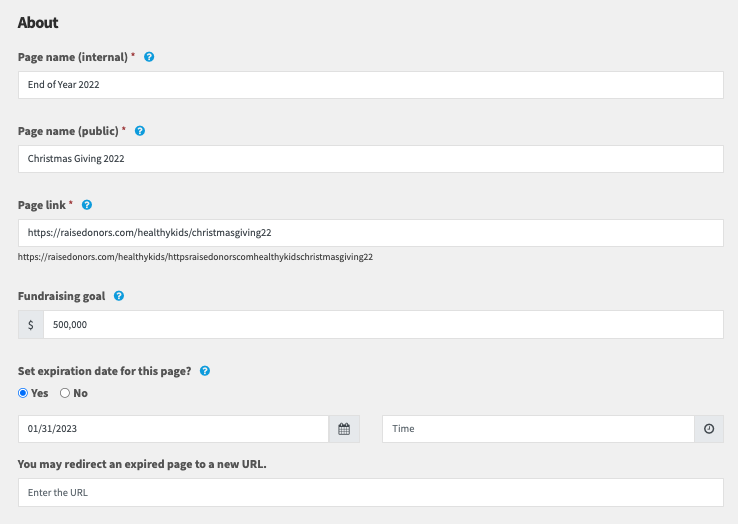 Your Page Option choices include:
Allow donors to dedicate their gifts in honor/memory of someone

If yes, you'll have the option to notify an honoree and admin on your team

Allow dominoes to include a comment with their donation

If yes, you can provide a placeholder text for the comment box.

Allow donors the option to subscribe to your mail and call lists?

Ask donors for their phone number

Ask donors for their "organization name"

Allow anonymous donations?

Show Help & Information link on page

Show Donor Login link on page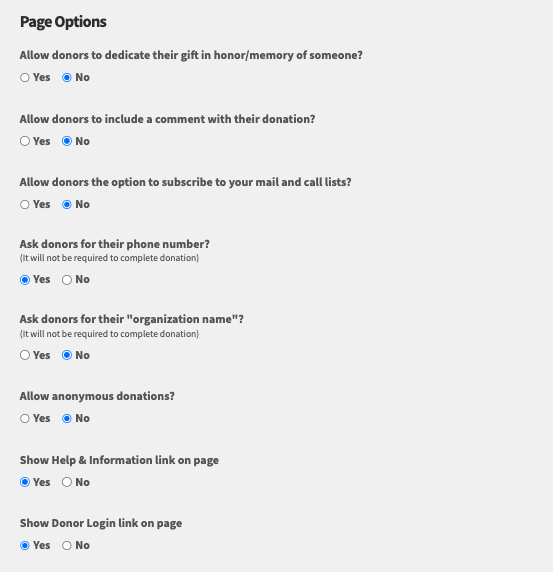 Select Next in the bottom right to move to more setup details.
Setup
On the Setup page, you'll define the Designation for gifts from this page:
Choose whether the gifts from this page are for a single project or for multiple.

Then, choose the project(s) to include

Motivation Code: This is essentially your campaign code. It will be included in the donation report.
Segment Code: This is your tracking device or source code. It will be included in the donation report.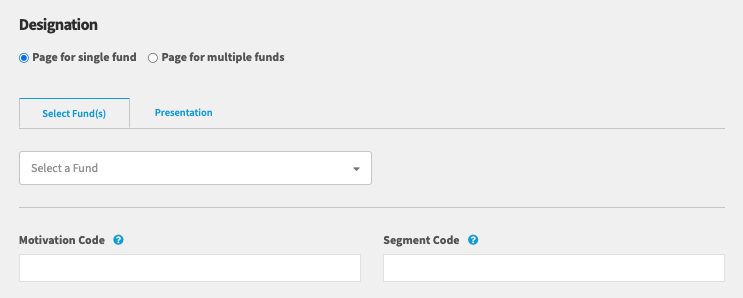 You'll choose whether this page includes an incentive offer (i.e. premium or item in exchange for the gift).

Then you'll define your Payment Setup.
Select the acceptable forms of payment
Select the type of donations you will allow: You're able to restrict to one-time or monthly gifts. If you allow monthly gifts, you'll be asked to provide a message to encourage donors to make this monthly donation and if you want this to be the default option.
Ask donors to cover processing fees: Read more about processing fees here.
Gift Array Options: you are able to suggest amounts for the gift, have an empty box for the donor to choose, or to Show Dynamic Gift Array. To use Dynamic Gift Array, you'll need to enable Responsive Listener. Learn more about Responsive Listener here.
Minimum donation required: you're able to set a minimum gift amount in order for the gift to be accepted.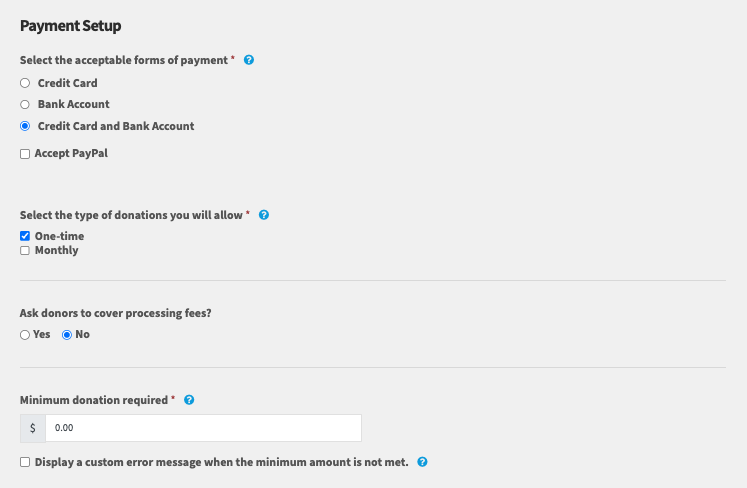 Content
On the content section, you'll define your messaging on your page, including your Logo, your Headline (or title section), Content (the appeal message), any Images or Video you want to include and how you display your Submit button.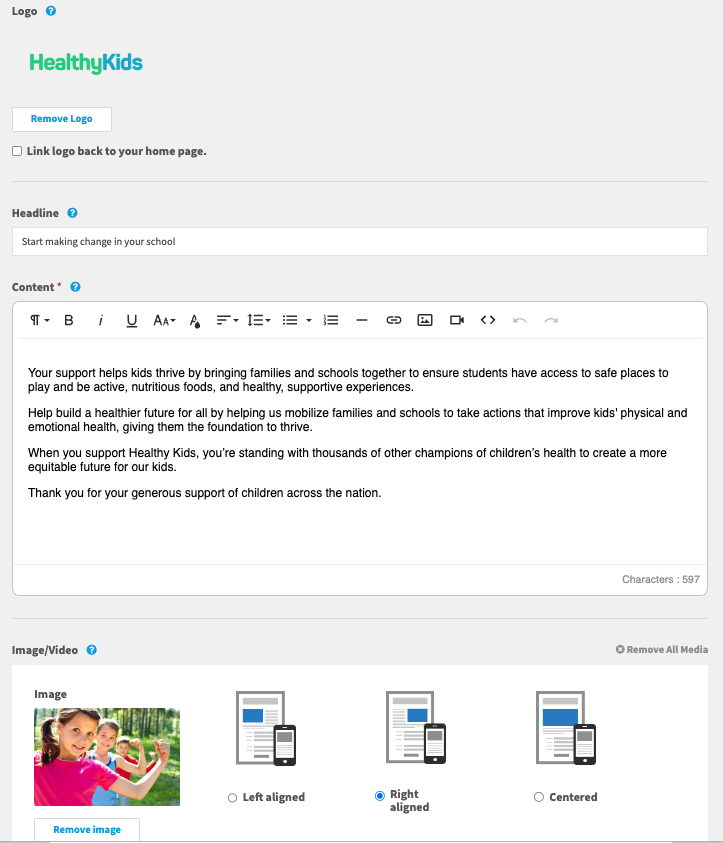 Additionally, you have the option to include more Content copy below to include privacy policy or maybe your org's EIN information and alternate contact information.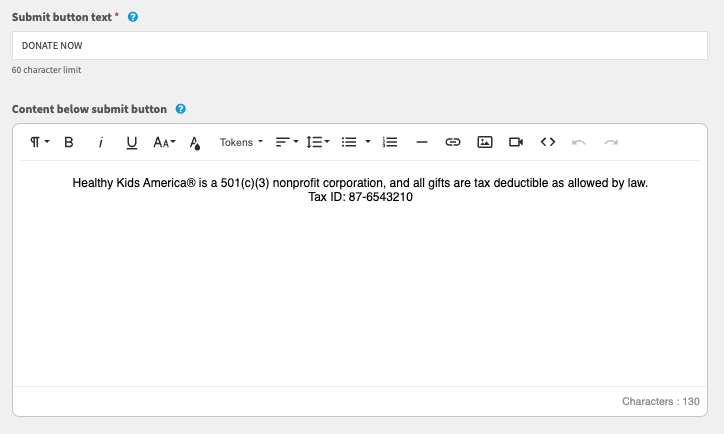 Design
The Design page allows you to the font, colors, and any custom code elements you wish to include.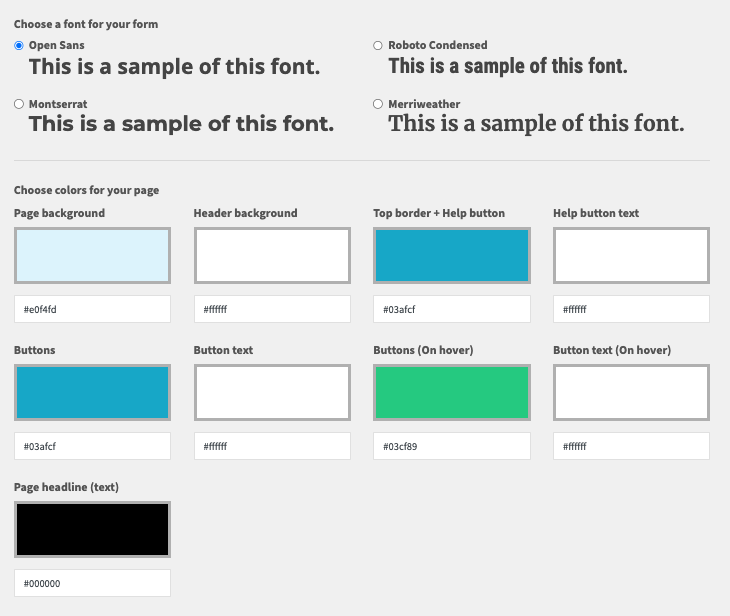 Confirmation
When a donation has been made, you'll confirm the gift on the confirmation page.
Include a Thank You message (with your Tokens).
Display a different "Thank You page" for recurring donations: if your donor chooses to give on a recurring basis, you can create a more specific Thank You message for that gift.
Redirect donor to custom 'Thank You page': You can opt to have this Thank You message redirect onto a custom URL.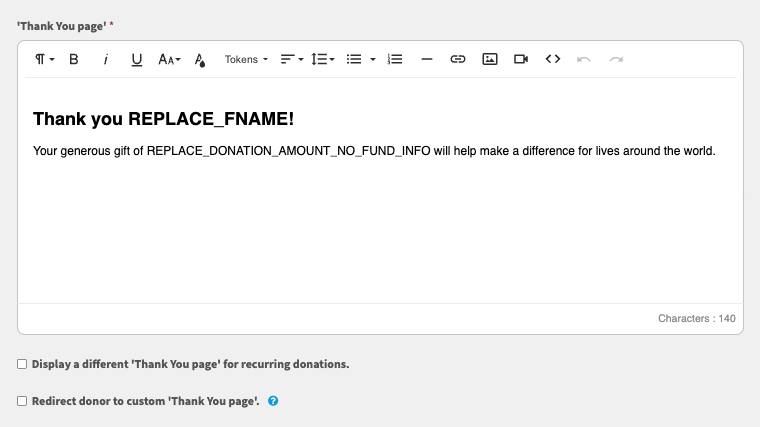 Thank You Email
Your next step is defining your Thank You confirmation email, or if you even want to send one at all!
If you do not wish to send a Thank You email through RaiseDonors to your donor, select the Do Not Send box near the bottom.

You are still able to have this send to your team admin if the emails are included in the field above.

If you do wish to send this immediate Thank You email, you're able to create two versions if there is a recurring donation created.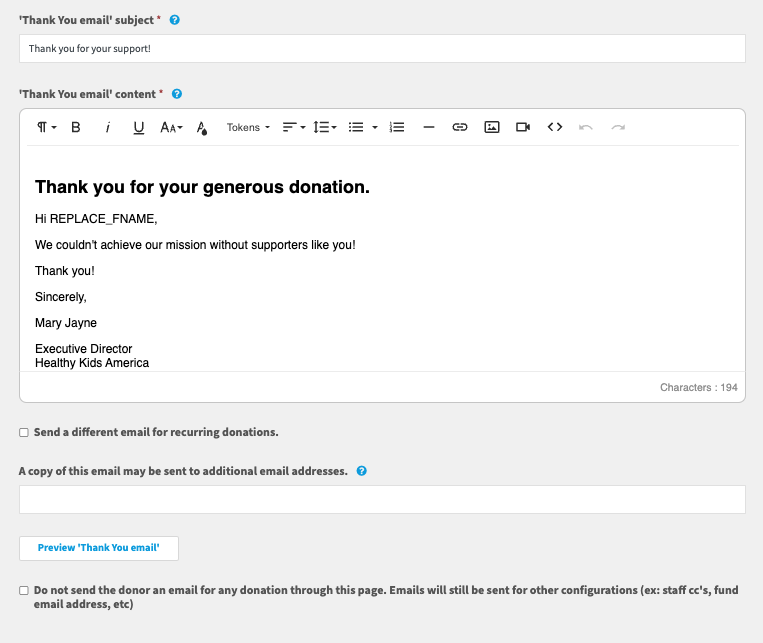 You final step is Publishing your page and then either embedding that code onto your website or sharing out your page url! Let the gifts roll in!