Once you've added PayPal as a gateway for your account, you'll probably want to start adding it to your donation pages (or not—we're not here to judge). If so, you can use this handy-dandy guide. Keep in mind that you'll need to add PayPal to each page where you want to accept payments via PayPal.
Note: PayPal cannot be used as your primary, or only, gateway. PayPal can only be added to a donation form as an additional payment option.
First, you'll need to log into RaiseDonors and select "Pages" from the menu at the top of the screen. There, you'll see all of your existing donation pages. If you'd like to create a new donation page, click on the "New Page" button in the upper right.

To add PayPal to an existing page, find that page, click on the menu to the right of the page name, and then select "Edit."

Whether you are creating a new page or editing an existing one, you'll add PayPal from the Setup step, which is the second page of the process. There, scroll down to the "Donation Setup" section. There, you'll select (or already have selected) your primary gateway for your page. PayPal cannot be the primary gateway for any donation form; it can only be offered as an additional form of payment. To add it, check the "Accept PayPal" box and then select the PayPay gateway you'd like to use (you may have more than one).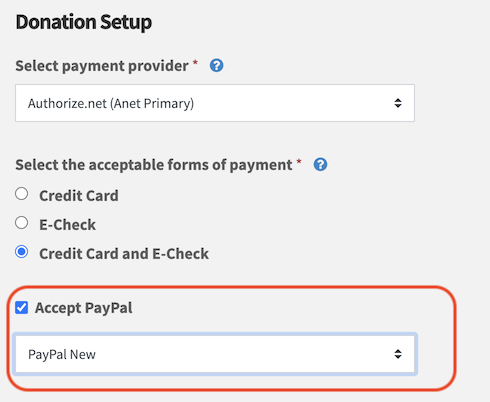 Save your form and then when viewing the form, in the Payment Details section, you'll see a button that allows a donor to pay with PayPal.

The Form Submission Process
When a donor visit a donation page that includes PayPal, they will need to enter a gift amount and select a fund designation (if required) before choosing to complete their transaction via PayPal. If they have not selected a gift amount before clicking the PayPal button, they will be prompted to do so.
Once a donor selects PayPal, a new window will pop up where they can log in to their PayPal account and complete the checkout process. After they check out, they will be directed to your confirmation message and sent a thank you email, just as they would when paying by credit card.