What's the Frequency, Kenneth?
OK, our pop culture references may be a bit out of date but hey, we've got some great new features coming your way, so it's not the end of the world as we know it!
Now, your donors will have more flexibility than ever before to support your organization with multiple recurring gift frequencies available on donation forms. That's right, all those shiny happy people who would like to give quarterly or annually will now easily be able to select the right giving frequency for them.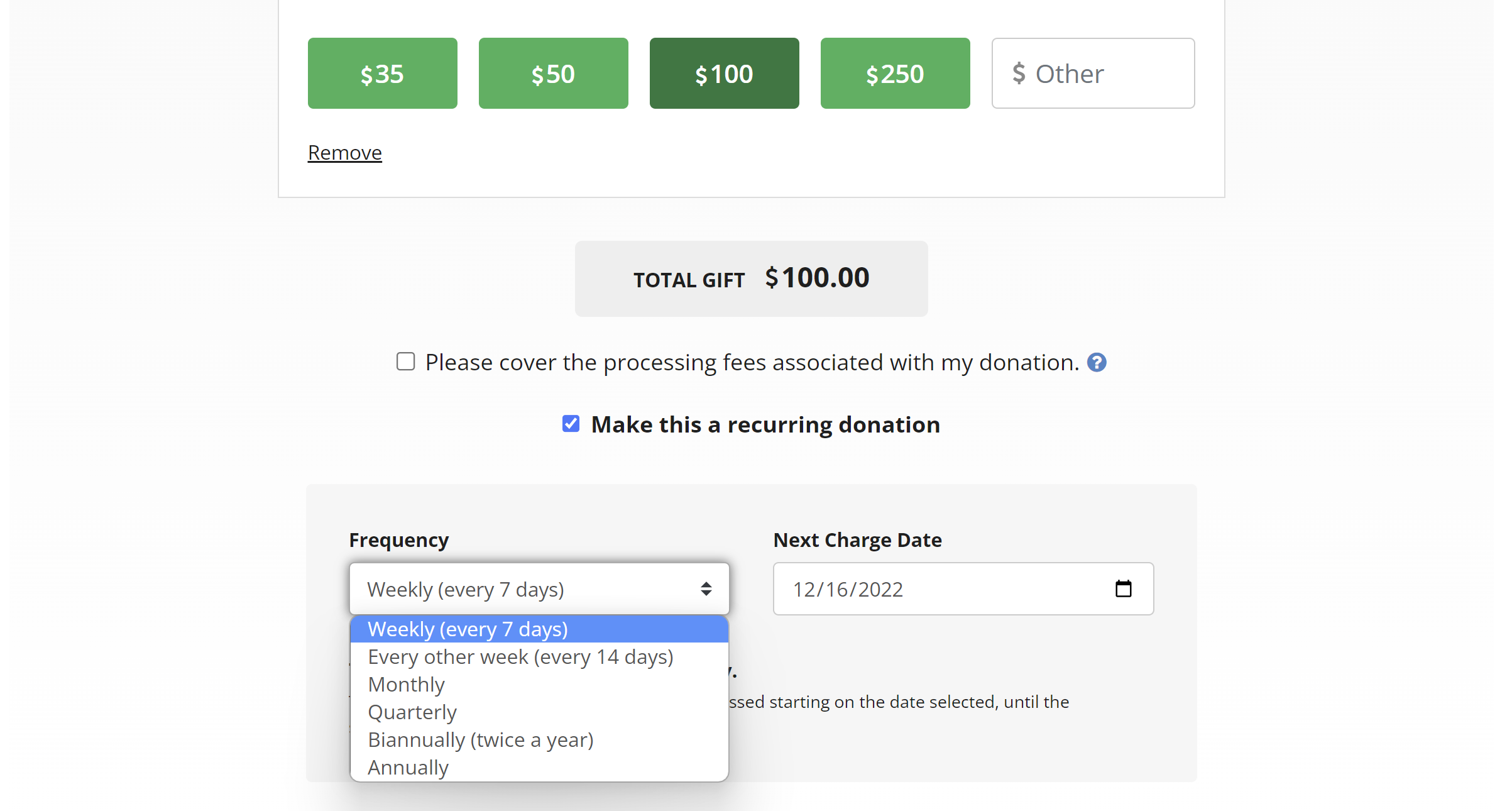 This new feature won't change your existing donation pages. If I've built a very specific donation page already, there's no need to get rid of the one I love. Admin users can choose which recurring gift frequencies to offer on a donation page.

Admin users will also see these recurring frequencies available when editing existing recurring gifts.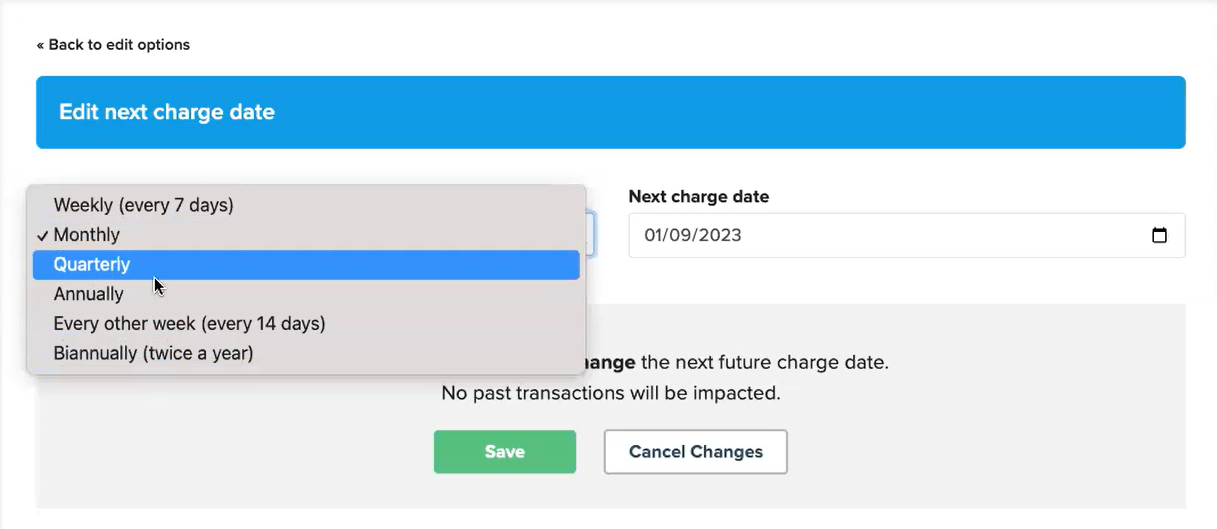 OK, it seems like we've run out of R.E.M. references (hey, you try to fit "Radio Free Europe" into something like this!) but if you want to learn more, you are welcome to drive on over to this spiffy support article.
Everything but the Kitchen Sync
Virtuous CRM and RaiseDonors are more than just two great tastes that taste great together, they are part of the Virtuous suite of products. So it makes sense that the two should get along well. In this release, we're bringing the family even closer together, with the new Contact Sync option! Now, users of both platforms will have the option to sync donor data from RaiseDonors to Virtuous and back again, automatically. Just look for the Virtuous Sync on the Integrations page.
In the sync settings, you'll see the option to sync Contacts.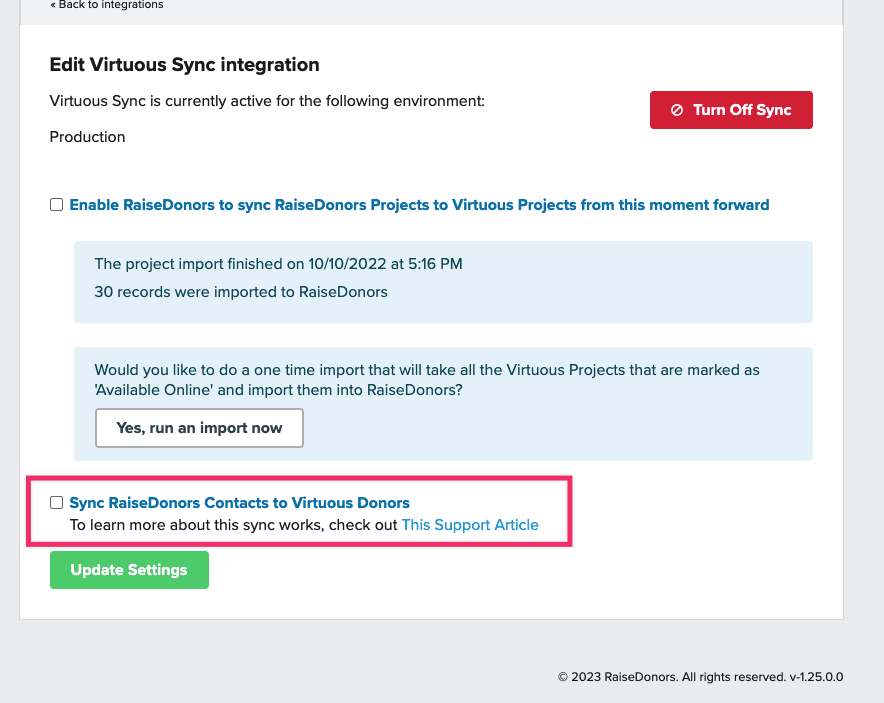 Once the sync is enabled, changes to names, addresses, and phone numbers will be automatically synced between platforms. Changes made in RaiseDonors will be sent to Virtuous in real time and then bundled overnight and processed via the Gift & Contact Import tool.
Want to learn more? Get in sync with the new Sync? Then check out our full support article on it here!
...And The Rest
As with every release, this latest update also includes a number of other fixes, tweaks, minor modifications, and assorted nudges. Among this month's assorted fixes:
For organizations using both Virtuous CRM and RaiseDonors, your donors can now download giving statements from the Donor Portal. For those who use the self-checkout at the grocery store, self-service receipting is really just the next logical step.

The giving statistics on the RaiseDonors dashboard will now be calculated differently. Instead of recalculating all of the totals after each gift, the totals for today will be refreshed every five minutes. Other statistics, such as those on the past 30 days or the past year, will now be refreshed daily. Hey, math is hard, even for computers!


RaiseDonors admins can now configure SSO using WorkOS. If you're not sure what these terms mean, that's OK. If you do, you'll know that SSO is kind of a big deal. It allows your users to log in using their existing logins in other systems. Reach out t our support team to learn more!

Funds have now been renamed to Projects as part of an effort to unify systems across all of Virtuous. If you are a Virtuous user, this probably makes your life a heck of a lot easier! If you are not a Virtuous user, you're just going to have to take our word for it.
And that's the list! Phew! As always, if you have any questions about these or other features, feel free to contact our support team.