In order to process donations in RaiseDonors you will need to integrate your account with a payment processor. RaiseDonors integrates with Auth.net, Stripe, PayPal, or Virtuous Payments.
With every transaction, the merchant will charge a small fee to cover the cost of processing credit card payments from donors. You do, though, have the option to ask donors to cover the processing fee of their gift on top of the donation amount they give. This means your donors can increase their gift to cover the credit card processing fee, so the full gift amount goes toward your Projects!
How Much are the Processing Fees and When are They Collected?
Virtuous Payments Fees
Virtuous Payments collects 2.90% of the gift. The RaiseDonors platform fee is not collected for organizations using Payments.
Authorize.net Fees
Authorize.net collects 2.90% + $0.30 of the gift. The RaiseDonors platform fee will be collected in addition to this.
Stripe Fees
Stripe collects 2.90% + $0.30 (or + 0.50% for recurring) of the gift. The RaiseDonors platform fee will be collected in addition to this.
How Do I Enable the Donor Covered Fees Option?
To give your donors the option to cover these processing fees, navigate to the Setup of your Page and select Yes to "Ask donors to cover processing fees?". The fields that display below will look slightly different depending on your integrated processor. For all processors, though, we encourage you to include a message to your donors explaining what it means to cover processing fees.
Stripe and Authorize.net
For both Stripe and Auth.net, the RD page editor allows you to actually specify the rate for credit card costs. The rate is an estimate, but it allows the merchant to collect fee revenue to help offset the fees. You also have the option to select which Project the fee goes into.
Payments
Payments collects the processing fee at the time of the transaction. You do not need to set the estimate percentage. You do have the option to place the processing fee into a specific Project, and we strongly suggest that you do! Learn more about the Covers Processing Fees Projects here.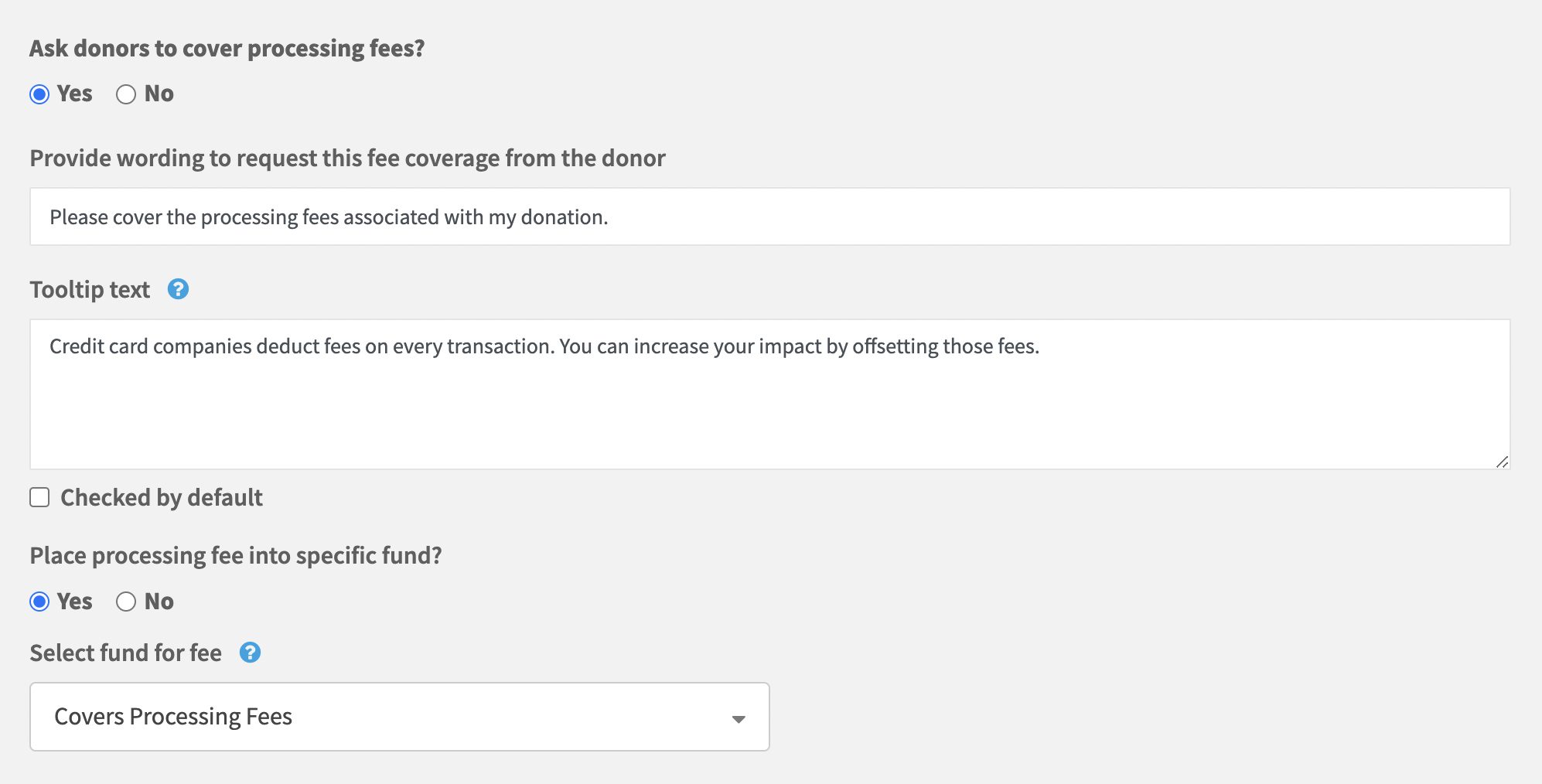 Are There Discounted Rates For Stripe & Authorize.net?
Stripe Rates
Stripe offers discounted rates for nonprofit organizations. Once you have finished setting up your new Stripe account (or even if you have an existing account), we recommend reaching out to the Stripe team by sending an email to nonprofit@stripe.com to ensure that you secure the lowest possible rates.
Authorize.net Rates
If your nonprofit processes more than $500,000 in donations annually, you may be eligible for a discount with Authorize.net. To find out if you qualify for a lower rate with Authorize.net, reach out to our Help Desk and we can put you in touch with our preferred Authorize.net reseller, EVO Payments, and they will help to negotiate a rate on your behalf.
Are There Transaction Limits For Stripe And/Or Authorize.net?
Stripe/Authorize.net may set transaction limits on individual credit card and ACH transactions. These limits can cause barriers in the event that a donor wishes to make a larger-than-usual gift.
Threshold limits may need to be increased for year end, especially when average gift amounts are expected to be higher.
Read more about preparing for higher than normal donation amounts.