Let's talk about how to configure RaiseDonors to integrate with Virtuous CRM!
Step 1
Log into Virtuous and go to System Configuration, then Application Keys. From there, add a new Application Key for RaiseDonors.
Step 2
Log into RaiseDonors and go to your account settings, integrations, donor management page. From there, click the edit button next to Virtuous.
Once these two steps are complete, you can enable the Virtuous integration.
If you wish, you can check to have RaiseDonors send any test donations to Virtuous.
For greater detail, you can check to have RaiseDonors send more information in the notes at Virtuous.
Some organizations need to override the original segment value for recurring donation instances with a new value. If that is a need, supply the override value. Otherwise leave this field blank to use the segment value saved with the donation.
You can customize how country and state names are sent to Virtuous (ISO3/ISO2/Full Name).
If media attribution is enabled, you can also specify which custom field is used in Virtuous to save the media code.
If Gift Aid is enabled with any of the gateways configured in RaiseDonors, you can specify which custom field is used in Virtuous to save the information. The value sent along in this custom field will be the creation date of the donation, in your organizations time zone.

Ex: MM/dd/yyyy. Virtuous has recommended setting the name of this custom field to "Gift Aid Submit Date".
Note that if no gateways are configured to support Gift Aid, this feature will not be available.

Supply your application key.
You'll want to also ensure you are pointed at the "Production" hosted environment, unless Virtuous support tells you otherwise.
Supply any contact email addresses if something should ever go wrong with the integration to Virtuous. It will send you an email if that occurs.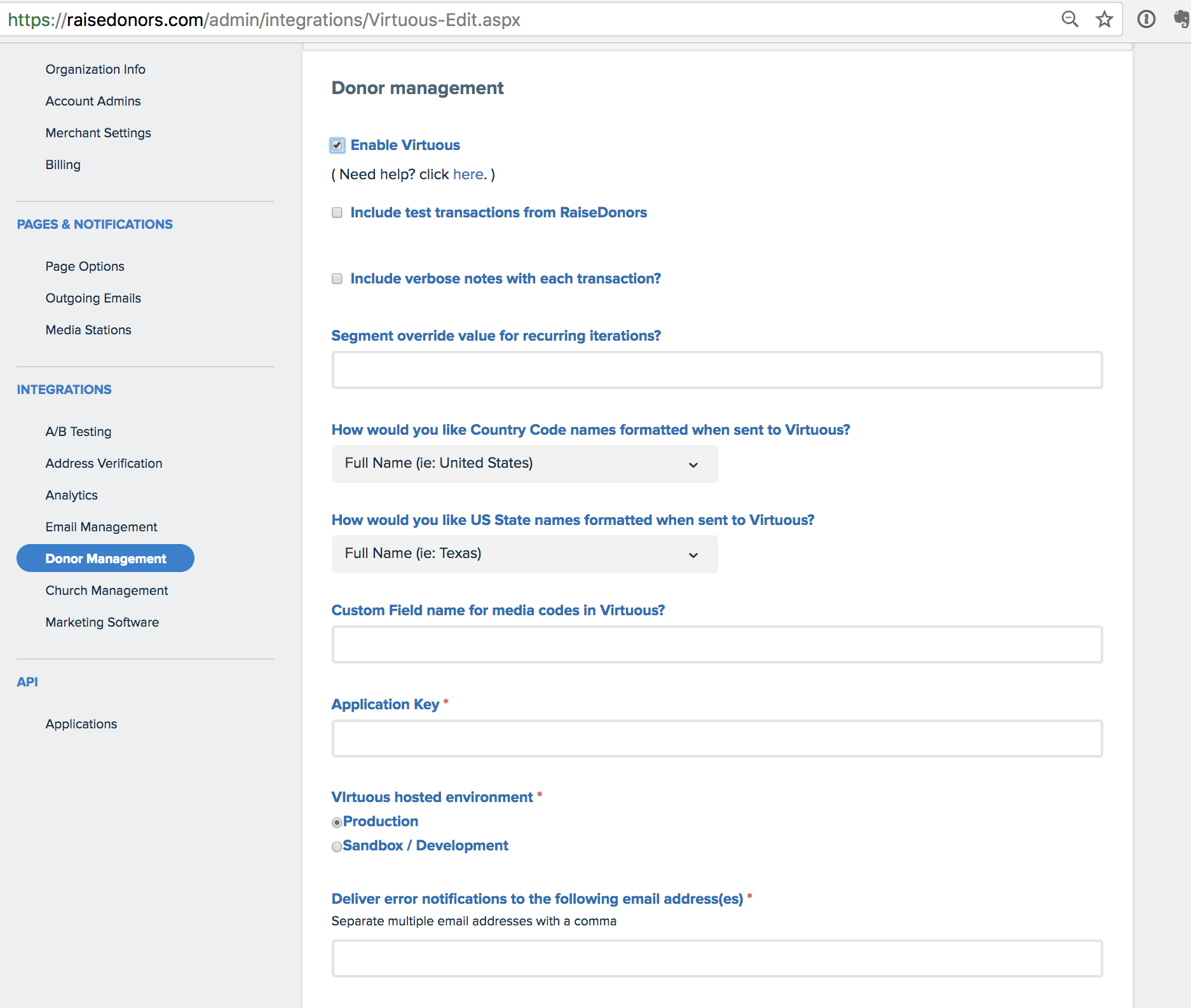 Step 3
If your organization will support donations that include products, you can specify which custom fields on the transaction object RaiseDonors should use.
Step 4
Click Save and you are finished! You can check in with the Virtuous support team to see how to batch and import the data RaiseDonors sends to Virtuous.