The fund is a key object in RaiseDonors. Understanding how funds can be used will ensure your organization is setup for success and easy reporting. A fund is essentially an accounting bucket where money is accumulated for reporting purposes.
Some organizations decide to use one fund for all fundraising, and that is ok! Beyond funds, the organization can use pages, motivation codes, and source codes to bring clarity and understanding of where a donation originated from. Or which marketing effort contributed to the donation.
Other organizations use thousands of funds. For instance, if your organization is involved in offering child sponsorships, or sub-business units, or has a need to track revenue clearly and precisely, then creating many funds is the way to go.
API
Funds can be fully managed through the RaiseDonors API which include GET, PUT, DEL, POST. There is also a publicly accessible endpoint for quick retrieval of funds. This endpoint is helpful for providing a list of funds for public visitors to search through.
Remote Searching
Wouldn't it be slick to have a google style search box on your website which allows visitors to search through the funds in RaiseDonors? When clicking on a fund, it would then direct the visitor to a custom donation page (that you configure), with the chosen fund pre-selected. This is a great value add to any organizations wanting to give their visitors the ability to search, locate a specific fund, and then donate. Read all about it here.
Donation Page Options
Funds can dramatically control the presentation of a donation page, allowing the donor choices in how to support your organization.
Single Fund
The simplest case is having a donation page assigned to one singular fund. In this instance, there is no need to display any fund information to the donor, because the donation will be attributed 100% to the one fund.
Single Fund Choice
You can choose two or more funds to be associated with the page or you can indicate All funds. The funds are displayed in a searchable drop down list giving your donors the opportunity to indicate which fund they wish to donate towards. If a fund includes an image or description, that will be included in the public display.
* Pro Tip: Pre-select the fund for the donor by using URL parameters. This is helpful if the donor has selected the fund they wish to donate towards in a previous screen or marketing efforts desire to load the page with a specific fund pre-selected.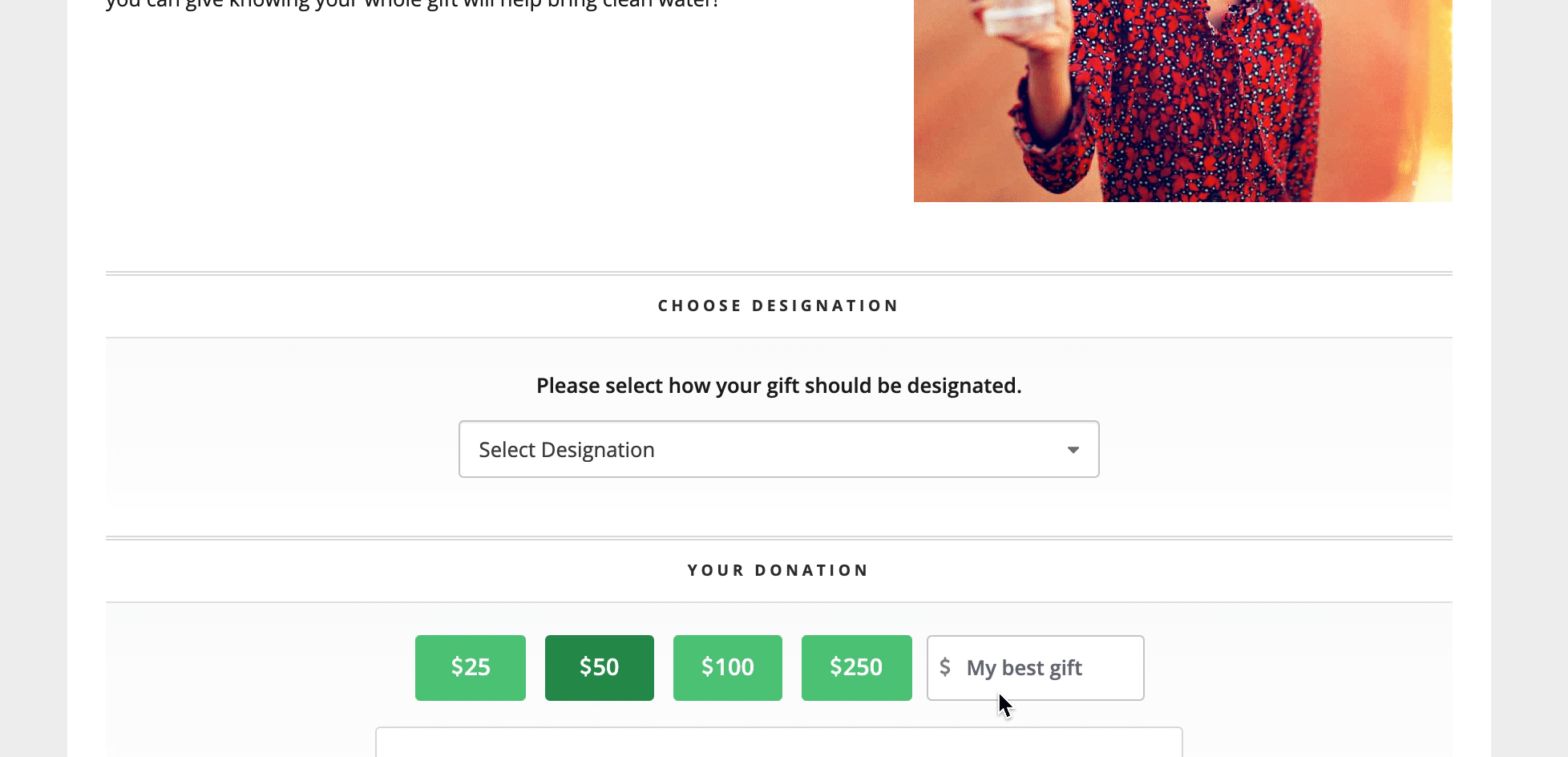 Multiple Funds
You can allow donors to place a singular donation across multiple funds too. This approach allows a donor to indicate the amount they wish to give towards each fund. If the donor opts to make this donation recurring, each future scheduled donation will maintain the fund allocations.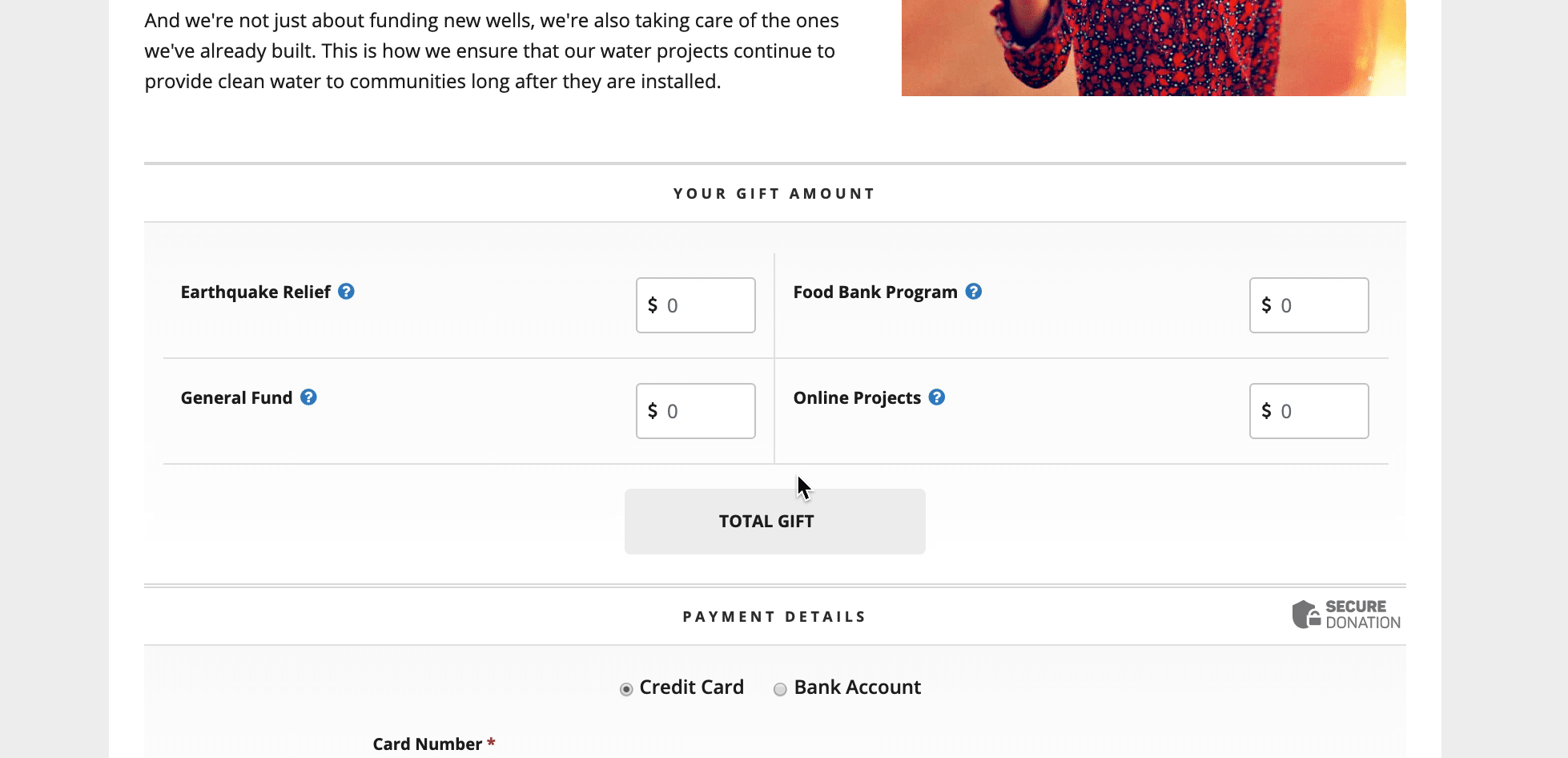 Properties
Here are a few of the properties available to use with each fund. These properties can be set up to provide incredible value to your organization.
Name
This is the name of the fund, visible to everyone (internal and external). You are welcome to use any alpha-numeric value up to 150 characters.
Code
This can be used however you wish; common examples include providing the general-ledger id or using an internal reference number or some meaningful abbreviation. The code is not always publicly visible and will be used heavily with integrations to external systems. The code can often times be the unique "key" that allows mappings to external systems. This can be any alpha numeric value up to 100 characters. By default, RaiseDonors requires every code to be unique. You can have funds with identical names, but the codes must all be globally unique. There is an override setting for this, but it is to be used with extreme caution.
Description
Provides insights and clarity on the purpose of the fund. You can also include information with download links, HTML, and information that would be helpful to describe this fund. The description has a max character limit of 3,000.
Active
Funds may come and go, but you don't want to delete a fund. Best practice is to mark it as inactive. Doing so keeps the fund alive and maintains all of the donations allocated towards it, but additional donations cannot be placed towards this fund.
Sort Order
You can specify the sort order of funds when they are displayed in a list. Lower values (ie: 0 or -100) are at the top (ie: first) and larger numbers are lower (ie: last), in ascending order.
Image
You can upload an image to be associated with a fund. This is helpful to give context to the fund and help provide a visual element. The image is used on the donation page when configured to display multiple funds and only one fund can be selected.
Email Address
Every fund can have either none, one, or multiple email addresses assigned to it. When a donation is successfully completed for a fund, all email addresses provided for the fund will be sent an email - indicating that this specific fund has received a donation.
Always Include In Search Results
If this value is set to true, then when an admin or donor is searching for a fund, those funds with a value of true on this property, will always be returned (regardless of having a match or not) and be displayed at the top of the results.
Meta data
Funds can hold meta data which is a list of key/value pairs. Common examples may include location, age, gender, etc. You can be very creative and store any data points to the fund which can also be visible to the donor in the donor portal. The donor portal can be customized to display specific meta data to help the donor better understand how their recurring schedules are allocated to funds. There are several specific meta keys reserved by RaiseDonors.
public-api.isprivate
Is used to determine if this fund is included in results from the public API endpoint to query funds. This is very helpful when you desire to hide funds from being returned to public facing features, like our free widgets.
rd.groupname
In the searchable drop down list interface for funds, if you supply a value for this reserved meta key, any funds sharing this GroupName, will be grouped together and indented under the group heading.
rd.addtoname
When this meta key is present, it will combine its value with the Fund.Name property. Yielding a result of, Fund.Name = Fund.Name + Fund.Meta[RD.AddToName]