Too many passwords to remember, not enough pet names to use! WorkOS for SSO can help! If you are an admin user, you can customize SSO options for your organization with a number of available identity providers, including Azure and Google. Then, users can enter the credentials associated with their identity provider to log into RaiseDonors and Virtuous, making it easier (and more secure) than ever to switch between products.
Before configuring WorkOS for SSO, you will need to reach out to your Account Manager to set up your subscription. You must also have admin permissions to configure SSO.
Once You Are Subscribed
Once you have subscribed to WorkOS for SSO, you'll find a new tab under System Settings.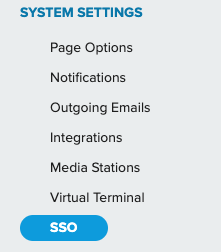 Once selected, you'll want to make sure your organization name and primary domain (what comes after the @ of your organization email: yourorgname.com) are include included. To learn more about WorkOS, navigate here. Select the green Configure SSO button at the bottom.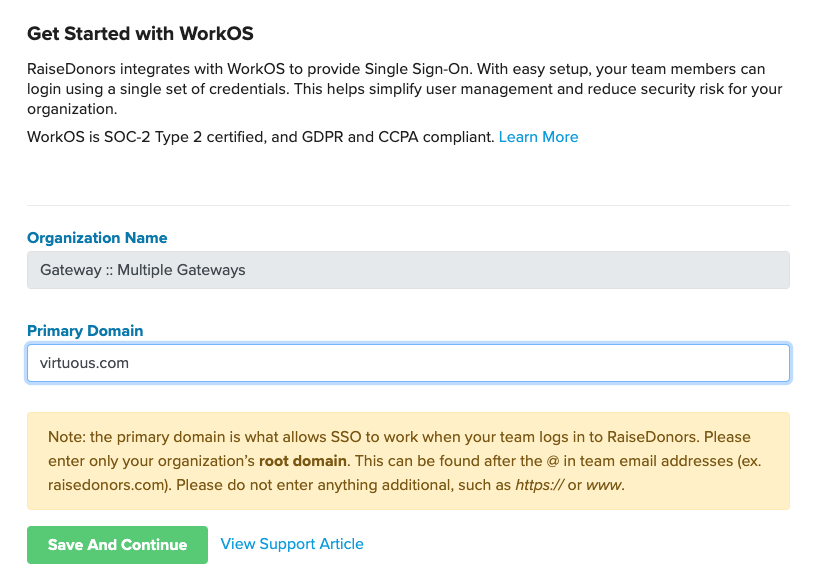 Once you've selected Save and Continue, you'll be prompted to find your identity provider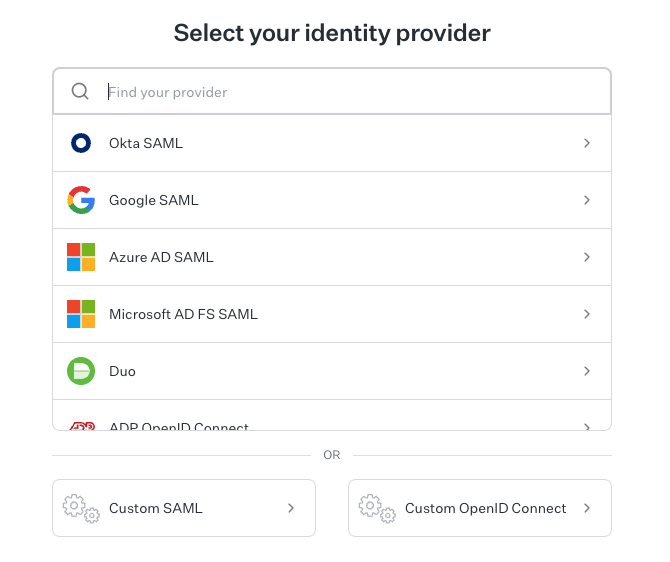 Part of this configuration includes sharing tokens and URLs between WorkOS and your identity provider. You will be taken to a screen with further direction on how to initiate that share depending on the provider you selected.
Once you complete the sync, WorkOS will ask you to test your sign-in. From there, go into the Virtuous app and enter the email address associated with your provider. You will be redirected to your provider to fill out your other credentials. After you enter them correctly, you're in!

A Few Other Notes
If you forget your password, you will need to go through your provider to reset.
Your login credentials should also work for the Virtuous CRM.
Users will still need to be invited to RaiseDonors before they can log in using credentials associated with your provider. Be sure to invite them with the email address associated with your primary domain and provider.
Identity Providers You Can Use
AD FS SAML
ADP OIDC
Auth0 SAML
Azure AD SAML
CAS SAML
ClassLink SAML
Cloudflare SAML
CyberArk SAML
Duo SAML
Generic SAML
Google OAuth
Google SAML
JumpCloud SAML
Keycloak SAML
LastPass SAML
Microsoft OAuth
miniOrange SAML
NetIQ SAML
Okta SAML
OneLogin SAML
OpenID Connect
Oracle SAML
PingFederate SAML
PingOne SAML
Shibboleth Unsolicited SAML
Shibboleth Generic SAML
SimpleSAMLphp SAML
VMware Workspace One SAML